Catering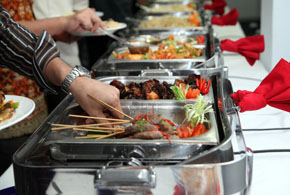 We at the Niagara Event Center know that food is an important part of most events. We also know that different events call for different meals and tastes. That's why we have menus prepared for every meal of the day and have a wide variety.

Business meetings usually require something simple and fast for breaks and early meals. For most places that means vending machines and stale coffee, but not at the Niagara Event Center. Here we can prepare a fresh hot breakfast complete with pastries and great coffee. We know that a good meal means a great start to the day.

So you've been in a meeting all day and you just want to really good food to fill you up. Again, you don't want something that doesn't taste good; you want it to taste great. That's were our chef comes in. Each group is able to choose from a delicious themed buffet or go a little bit further with our individually prepared plated meals.

The Niagara Event Center is also able to offer catering for our Unique Events . Be sure to discuss this wonderful possibility with our Sales director.