Weddings
Your big day has finally arrived. Your dress is beautiful, he looks stunning in his tux and the ceremony was absolutely perfect. Now the only thing left is your reception. That's where we take over. We know everything has to be perfect, from the table settings and layout to the absolutely wonderful food that will leave your guests talking long after your day.
Flexible Room Layouts
Space can be an issue at most receptions, but you don't need to worry about that at the Niagara Event Center as we can accommodate wedding receptions as small as 80 or as large as 500 of your closest family and friends.
Catering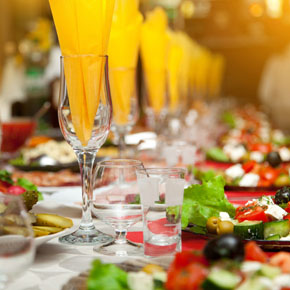 Food -- One of the most remembered things about wedding receptions. It's all about quality, choice and service. At the Niagara Event Center you'll receive all three. Choose from one of our themed buffets or go the plated route and let our chef wow your eyes and taste buds. As for drinks we have a full bar on site and a professional bartending staff and servers.
State of the Art Audio Visual Technology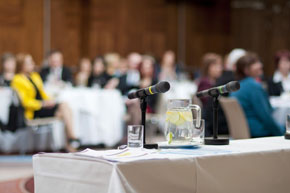 During dinner or dancing you can share memories with your friends through a slideshow or videos on our large screen. We are equipped with state of the art A/V technology which includes wireless microphones and lavalieres, a large motorized drop down screen and projector which is viewable across the entire center and also speakers in the ceiling. Wireless internet is also available.
---
If you want to wow your guests and have that perfect island wedding and reception, then look no further than the Niagara Event Center on Put-in-Bay.